Michigan's Leader in Commercial Irrigation Services Since 1950
---
Specializing in the Design and Installation of Commercial Irrigation Systems for Business Owners and Facility Managers in Commerce, MI, and Surrounding Cities.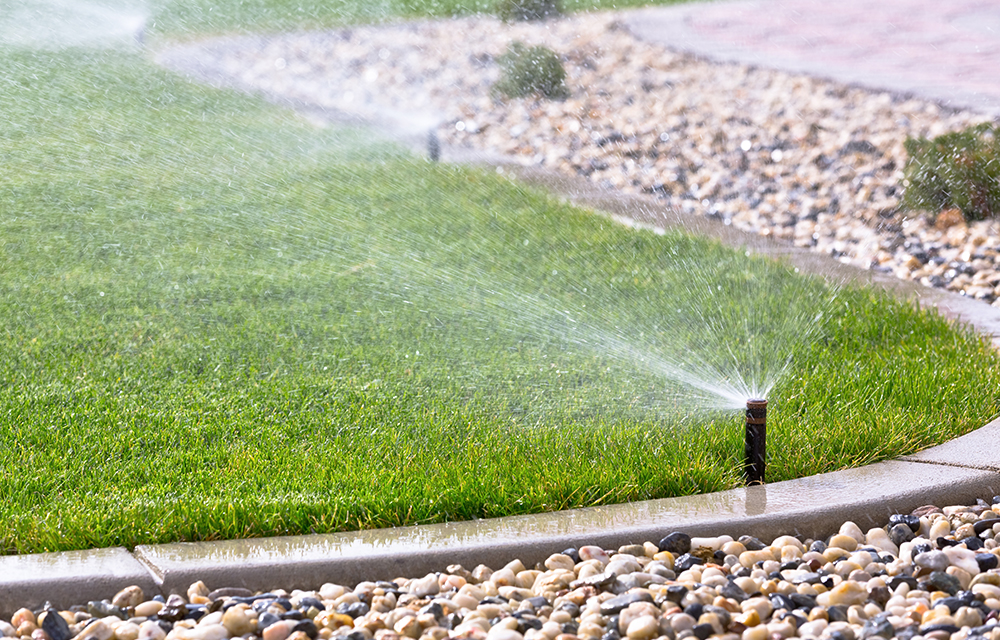 When it comes to maintaining healthy flowers, shrubs and other landscaping elements for office parks, municipalities, sports fields and other public spaces, it's wise to protect your investment with innovative smart commercial irrigation systems.
Our experienced team at Michigan Automatic Sprinkler customizes and designs smart irrigation systems to fit your business' specific needs. These systems provide optimal water levels to keep your commercial landscapes in perfect condition year 'round—regardless of their size. We provide expedited professional repairs, maintenance services, as well as design new installations and make updates for irrigation systems. If you're looking for a high-tech solution, we can design and install highly accurate monitoring packages for smart irrigation systems. Your grass and ornamentals will enjoy getting just the right amount of water when it's needed through the beauty of modern irrigation technology.
Commercial Irrigation Services in SE Michigan and Beyond
Michigan Automatic Sprinkler is an industry leader in commercial irrigation, specializing in large-scale irrigation master planning and design, installation and maintenance. We are based in Michigan but our commercial accounts span east of the Mississippi. We service commercial clients in Michigan, Illinois, Ohio, Indiana, Wisconsin, Minnesota, Pennsylvania, Kentucky, New York, Virginia, North and South Carolina, Florida, and Tennessee, providing innovative, cost effective solutions for complex irrigation design and builds as well as troubleshoot complex issues with current systems.
Our vast knowledge and certified irrigation team provide years of experience in designing irrigation systems for recreational parks, open spaces, sports complexes, schools, retail centers, streetscapes, large scale commercial projects, national cemeteries and golf courses. Our projects include General Motors World Headquarters, Ford Motor Company World Headquarters, University of Michigan Bishop Field and Practice Fields, University of Detroit, Comerica Park, the City of Southfield and the City of Canton.
Michigan Automatic Sprinkler works closely with the landscape architect, general contractor, project manager and project developer to determine the most economical or desirable water source, type of water application, irrigation materials and installation methods before we design and install your commercial irrigation system. We are a valuable resource to our commercial clients as we stay intimately involved in the process from design and planning, to installation, to maintenance and training on the system. We are with you every step of the way and make sure your system conforms to the construction documents.
Benefits Of Sprinkler Systems
Customization
A sprinkling system can be customized to accommodate the size, shape, and type of your lawn, for optimum functionality. As such, you can choose between traveling, oscillating, stationary, and revolving varieties, depending on the nature of the landscape to be covered.
Read More
Save Money and Protect Your Fields, Lawns and Landscaping with a Smart Irrigation System
What makes smart irrigation systems an ideal choice for those seeking lawn, landscaping, park, and sports field irrigation, is that they do much more than operating on basic programming schedules. Your custom smart commercial irrigation system can be armed with its own weather station that takes into account wind, rain, soil evaporation levels, and other weather conditions and adjust your watering cycles accordingly—without you ever having to touch a button! However, manual operations via your computer or smartphone are possible, so you'll still be in charge when you so desire.
There are countless benefits to this amazing technology including saving money on water bills and healthier landscapes that will flourish. Through the smart controller's ability to detect rainfall, your system will never be running during or shortly after a rainstorm—it will only activate when the soil detection system indicates water is needed. This keeps plants, grass, and shrubs healthier by preventing root rot that can ultimately spell demise for your landscaping. Zoning technology means that only the areas that need water will be activated as opposed to the entire system. How smart is that for commercial irrigation management?
If you're in the market for technologically advanced commercial smart irrigation systems, look no further than Michigan Automatic Sprinkler—the reputable authority on commercial irrigation systems in Commerce Township, Michigan.
Prevent Costly Repairs and Protect Your Budget with Seasonal Maintenance of Your Commercial Irrigation System.
Timely service and maintenance of your irrigation system add to its longevity. Michigan Automatic Sprinkler installs, maintains and services over 5,000 valued customers a year. Our team of trained and experienced technicians and managers provide the best service in the business. No matter the issue, our team will diagnose the situation, confirm if the system is under warranty, and give a complete detailed cost estimate to the business owner before any work is to begin. Our service department is also responsible for general maintenance on your system.
While some regions receive sufficient amount of rainfall, other areas require the use of sprinklers to maintain the lush green cover on lawns. Keeping such spaces green calls for the supply of sufficient water, at the right time, while minimizing wastage. This is where sprinkler systems come in handy. Here are more benefits Read More…
---
Complete Commercial Irrigation Maintenance for Every Season
Spring Start-up:
We will do the following for your system:
Reseal all drain valves and plugs
Open shut-off valves and slowly fill the main line
Check the entire main line for leaks and damage
Check each individual zone and adjust heads as needed for proper operation and coverage
Change and adjust the automatic rain sensor for proper operation
Reset the control timer for required settings for the Spring season
Mid-Season Inspection:
Offered as a Single Midseason visit or our Green Plan option (July, August, September)
We will do the following for your system:
Main line and lateral lines inspected for leaks
Check appearance and health of lawn and shrubs
Check individual zones and adjust heads as needed for proper operation and coverage
Check and adjust the automatic rain sensor for proper operation
Reset the control timer for required settings based on weather
Winterization:
We will do the following for your system:
Turn off or switch control timers to idle
Fill entire system and components with compressed air to flush out all water
Open all drain valves and drain plugs
Inspect system for potential Spring repairs